1968 Lotus Elan +2 (Type 50) SOLD!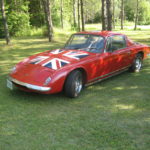 This Elan has been sold!
This 1968 Lotus Elan +2 has a 1558 cc Lotus Ford Twin Cam Engine with Lotus 4-speed Gear box
with Twin Weber carbs. The car has new Roto-flex couplings.
Sound original  back-bone chassis.
Recently replaced: suspension, interior, window and door seals.
A largely unaltered example of a very early Plus 2 in quite reasonable condition.
Drives and handles exactly as a Lotus of this era should.
The exterior paintwork appears to be the original factory coating …. and remains in remarkably nice condition, with only some minor hairline (stress) cracking visible.
Note:- the original/correct bonnet (in Carnival Red) is included.
Some Interior cosmetic work may still be required.
Runs beautifully!
Price …. $20,000 CDN.