1976 Triumph TR-6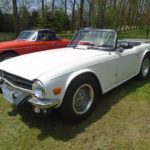 White with black interior.
Paint is good, could do with a wax.
Interior clean and original, carpets good.
Hood very good.
2.5 litre six cylinder engine with twin down draft weber carbs.
Car runs and drives very well. No rattles etc.
This car is a 4 speed overdrive car that drives perfectly. Will drive anywhere.
$15,000 CDN.